2017 Tacoma for Sale near Elmhurst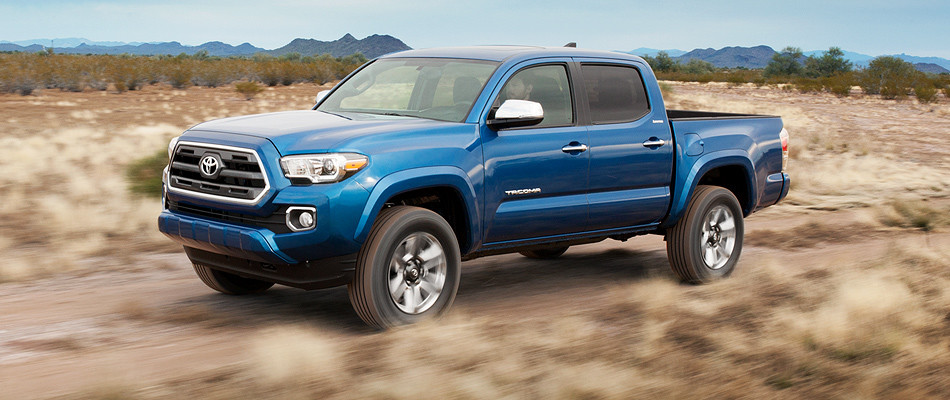 View 2017 Tacoma Inventory
2017 Tacoma for Sale near Elmhurst
Trucks are great for a lot of reasons and more so over the fact that they can offer power for jobs or for fun. It all depends on the type of truck you desire. Larger trucks supply the power while midsize trucks can offer efficiency for those seeking an everyday driver type of truck. You can choose between trims and models of the 2017 Tacoma for Sale near Elmhurst as well including the luxurious Limited and the adventurous TRD Pro. No matter what truck you desire, we have.
Enhanced Performance of the 2017 Tacoma TRD Pro
When you want a truck that is off-road ready that can take you on a trip, the TRD Pro model is ideally for you. It comes only with the 3.5L V6 engine for pure power as well as exclusive features and exterior designs. The front grille is inspired by Toyota heritage that sports aggression. Underneath, there is a unique TRD Pro skid plate that is 1/4 –in thick aluminum for added protection as it protects crucial mechanical components.
Other exclusive features on the TRD Pro include special tuned internal bypass shocks and a cat-black exhaust. The shocks include 2.5-inch aluminum housings giving you powerful shocks overall. Of course, if you desire efficiency, the standard Tacoma comes with a 2.7L engine that offers up to 159-horsepower. Choose the ideal truck for you.
Passenger Safety in the 2017 Toyota Tacoma near Elmhurst
A powerful truck is also fairly safe as it not only includes a well chiseled exterior for protection in a collision, but it also can feature plenty of safety features as well. The 2017 Tacoma for Sale near Elmhurst can be found with a unique Star Safety System which includes six different features including brake assist, Smart Stop technology, traction control, and more. These features also help with performance as well. You can find advanced safety features on higher trims including a rear parking sonar and camera, blind spot awareness, and more. Standard features including advanced airbags, a security system, and a door structure that includes advanced high-strength steels for a stiff door.
With so many different trims and models, the 2017 Tacoma for Sale near Elmhurst is perfect for anyone no matter what their needs may be. Check it out for yourself with a test drive. If you would like to schedule a test drive or have any questions, you can contact us at 855-890-2899 or stop in and see us. We are located on 725 West Roosevelt Road in Lombard, IL. We proudly serve the surrounding areas as well.
Directions to Toyota Elmhurst
Contact us about the 2017 Tacoma