2017 Toyota Prius Two near Hinsdale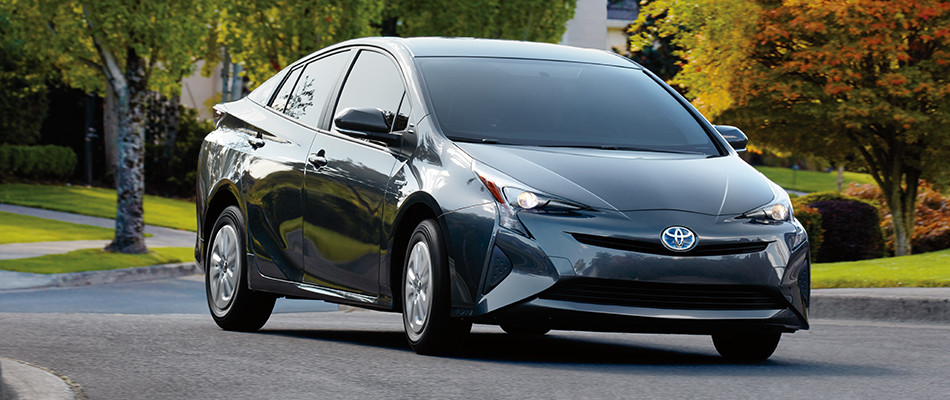 View 2017 Toyota Prius Two Inventory
2017 Toyota Prius Two near Hinsdale
If excellent fuel efficiency is high on your list of must-haves in the car that you desire to acquire, you should consider getting the 2017 Prius Two near Hinsdale at Lombard Toyota. The 2017 Prius Two is the currently one of the the most fuel-efficient hybrid cars on the market. It is also a top seller in its segment and has won numerous awards for its outstanding all-round quality.
Performance and Handling of the 2017 Prius Two
The 2017 Prius Two near Hinsdale benefits from Toyota's advanced hybrid synergy drive system that combines a 95hp-capable, 1.8 liter, 4-cylinder gas engine with two 53-kW permanent magnet AC synchronous motors that link with a high-capacity lithium-ion battery pack. This hybrid synergy drive system generates a total output of 121hp, which is delivered to the front wheels through an electronically controlled continuously variable transmission. Thanks to this transmission's shift-by-wire technology that transmits shift operations using electric signals, this transmission offers light, fingertip shift operations via its shifter.
The Prius Two requires approximately 10.5 seconds to sprint from zero to 60 mph. It also achieves a top speed of 114 mph, which is commendable for a mainstream hybrid car. The 2017 Prius Two also boasts a fuel economy rating of 54 mpg city/50 mpg highway (52 mpg combined). The Two Eco models do even better with a rating of 58 mpg city/53 mpg highway (56 mpg combined).
Safety Features of the 2017 Toyota Prius Two near Hinsdale
The 2017 Prius Two near Hinsdale comes equipped with a standard Toyota Safety Sense™ P suite of safety systems. Without a doubt, the Toyota Safety Sense™ P is one of the most advanced suites of driver assistance technologies in the industry. One of the Toyota Safety Sense™ P technologies is a full-speed range dynamic radar cruise control system. This autopilot system is especially useful on long, exhausting drives. Using radar, this system senses the distance between the Prius Two and the car ahead and it slows down the Prius Two's speed to maintain a safe following distance with the car ahead. When the car moves away, this system restores the Prius Two's cruising speed.
Another Toyota Safety Sense™ P safety feature that comes with the 2017 Prius Two is an automatic high beam system that makes driving at night much safer. When there is oncoming traffic at night, this system switches to low beams until the vehicles pass, after which it restores the high beams. Another Toyota Safety Sense™ P safety feature is a pre-collision system with pedestrian control that uses radar to sense potential collisions with cars or pedestrians on the road ahead. When this system senses an imminent collision, it automatically alerts the driver audibly and visually and it also immediately applies brakes to prevent the collision. There are several other Toyota Safety Sense™ P safety systems on offer in the 2017 Prius Two.
Come to Lombard Toyota to find out more about the 2017 Prius Two. We are located at 725 West Roosevelt Road, Lombard, IL 60148. We at Lombard Toyota are offering this car with competitive financing and leasing deals that you are sure to find quite attractive. Call us at 855-890-2899 to find out about them.
Directions to Toyota Hinsdale
Contact us about the 2017 Toyota Prius Two