2017 Toyota Prius Two near Downers Grove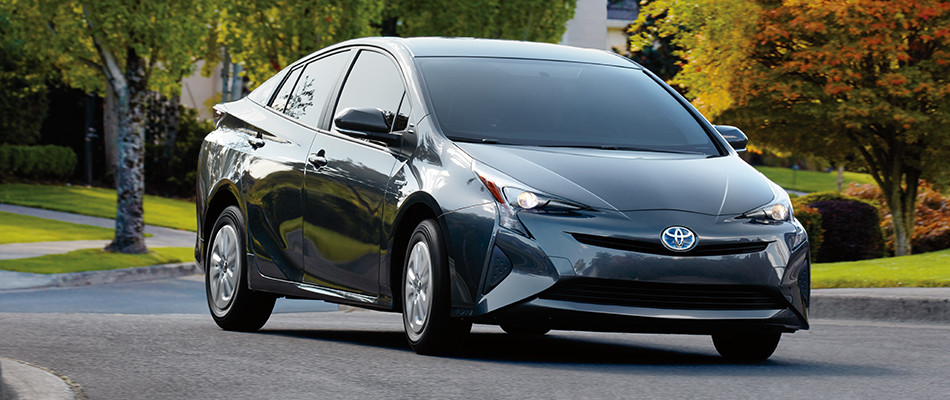 View 2017 Toyota Prius Two Inventory
2017 Toyota Prius Two near Downers Grove
Hybrids are no longer rare to see on the roads. As the years progress, hybrids become more popular. Toyota's 2017 Prius Two near Downers Grove is one of the best hybrid vehicles on the market. It offers an amazing amount of cargo space, eco-friendly powertrains and technology, and they're efficient in every way. You won't want to pass up an opportunity to own one of these amazing vehicles.
Hybrid Capabilities of the 2017 Prius Two
The 2017 Prius Two near Downers Grove is powered by a 1.8 liter four-cylinder engine. This engine is paired with two electric motors, plus a battery pack, and produces 134-horsepower. Front-wheel drive with a continuously variable transmission is also standard on Toyota's famous Prius. Considering the fact that the 2017 Prius Two is a hybrid, the fuel economy rating should be amazing. Toyota doesn't disappoint with this year's model, which the EPA estimates has a fuel economy rating of 41 mpg combined, coming in with 43 mpg/39 mpg for city/highway.
As mentioned earlier, the Prius Two is extremely efficient in different ways. One way is that you use less gas with the combination of two electric motors and the four-cylinder engine. Another way is actually in the physical design of the chassis. Toyota designed the exterior of the 2017 Prius Two to be ultra-aerodynamic, making it less resistant against air while you're driving. This also results in having to use less fuel and less power, since the vehicle seems to almost glide while you're on the road. Not only is the Prius Two efficient, but also effortless.
Technology of the Toyota Prius Two near Downers Grove
Toyota's popular Prius comes with plenty of fun hybrid features. Some of the standard features that you can find on the 2017 Prius Two include keyless ignition and entry, a rearview camera, and a 6.1-inch touchscreen interface. Some other fun things that Toyota offers for us to play around with are the different drive modes. These drive modes include EV, ECO, and POWER. The ECO mode is meant to maximize the outstanding fuel economy of the 2017 Prius Two near Downers Grove. The EV mode allows you to run just on the electric motors for up to half a mile under certain conditions. Lastly, but definitely not least, the POWER drive mode increases the response of the gas pedal, which creates a more powerful acceleration. No matter what drive mode you prefer, all three of them are equally as exciting and efficient.
Hybrids become less rare as the years go by. This is because people start to realize just how much pollution vehicles contribute to the environment. Toyota has been making huge efforts in creating a cleaner environment, and the 2017 Prius Two near Downers Grove is perfect for doing just that. Here at Lombard Toyota, we want to partner with you in creating a greener planet! To get your 2017 Prius today, give us a call at 855-890-2899 or come visit us at 725 W. Roosevelt Rd. in Lombard.
Directions to Toyota Downers Grove
Contact us about the 2017 Toyota Prius Two