2017 Toyota Prius Three near Hinsdale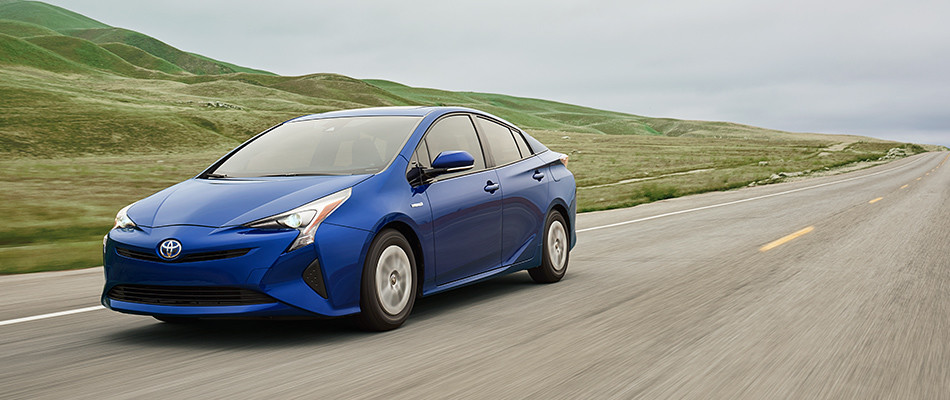 View 2017 Toyota Prius Three Inventory
2017 Toyota Prius Three near Hinsdale
If you are shopping for a car that offers great value in fuel-efficiency, versatility, and technology, try the 2017 Prius Three near Hinsdale at Lombard Toyota. The 2017 Prius Three is one of the best hybrid cars on the market, and it also offers a roomy, family-friendly interior. The 2017 Prius Three is also outstandingly dependable.
The Utility of the 2017 Toyota Prius Three
One of the things that you are sure to like about the 2017 Prius Three near Hinsdale is its impressive utility. Despite its large, rear-positioned lithium-ion battery pack, this car still manages to offer up to 27.4 cubic feet of cargo space. In addition, this car also features standard 60/40 split-folding rear seats that when folded down avail a total cargo capacity of up to 65.5 cubic feet. This is actually more cargo space than what some compact SUVs offer.
The 2017 Prius Three also features a cargo area lightweight tonneau cover that you can use to cover your cargo and keep it from prying eyes. In addition, this car also offers storage areas for smaller items that you and your passengers may carry along. For example, it offers two front and two rear cupholders/bottle holders for your drinks, a center console storage compartment for items like your tablet or smartphone, and a glove compartment for your documents. The 2017 Prius Three also offers comfortable seating for five passengers. There is adult-friendly headroom, legroom, and shoulder room in both rows of this car.
The Technology Advanced New Prius Three near Hinsdale
The 2017 Prius Three near Hindale also offers advanced tech features. Unlike most other cars that feature analog instrument clusters positioned behind the steering wheel, this car features digital instrumentation via dual high-resolution multi-information display screens that are positioned on top of the center console. The 2017 Prius Three also offers an available intelligence clearance sonar system that makes parking much safer. When parking, this system scans the surrounding for stationery objects like lamp posts or walls, and when there is likelihood of a collision with these objects, this system automatically applies brakes and also emits an audible alert.
The 2017 Prius Three also comes equipped with a qi-compatible wireless smartphone charging system that enables you to recharge your smartphone without having to use any cords or wires. There are many more tech features on offer in this car.
We at Lombard Toyota welcome you to visit us at 725 West Roosevelt Road, Lombard, IL 60148 to see the 2017 Prius Three and to test drive it. You can also call us at 855-890-2899 if you have any questions. Lombard Toyota is a well-reputed and licensed Toyota dealer that serves the Hinsdale and Lombard area.
Directions to Toyota Hinsdale
Contact us about the 2017 Toyota Prius Three