2016 Toyota Corolla for sale in Villa Park, IL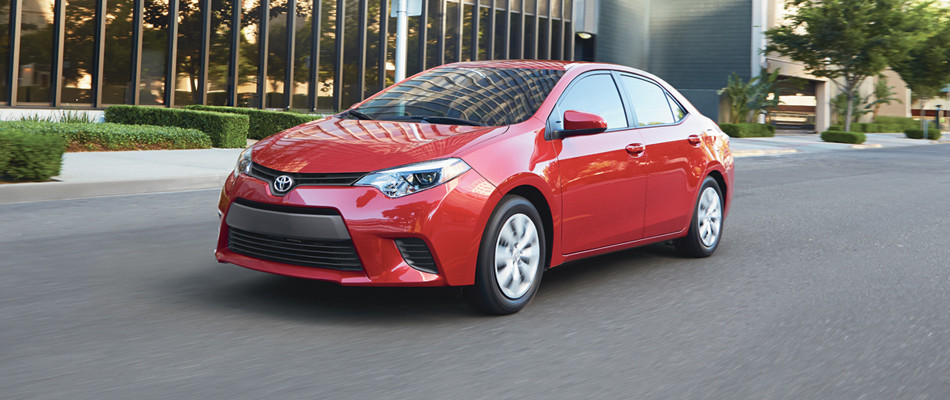 View 2016 Toyota Corolla Inventory
2016 Toyota Corolla for sale in Villa Park, IL
With a pedigree unmatched by any other brand, the 2016 Toyota Corolla for sale in Villa Park, IL is sure to impress. The unmatched reliability of the Corolla means that you can make your daily commute or weekend fun run worry-free! Visit us at Lombard Toyota for a great buying experience.
While reliability is certainly nice to have, if it were the only thing the Corolla offered, the car wouldn't have the prestige it does. Frankly, it'd be boring. The 2016 model features an aggressive, sporty front fascia, accented nicely by optional 17" alloy wheels and a rear spoiler. The LED low-beam headlights and daytime running lights provide a modern, luxurious accent, and the best part - they come standard on all Corolla models.
The unmistakable front fascia is sure to grab the attention of anyone and everyone on the outside of the car, while the sporty-yet-comfortable interior is sure to keep you satisfied. You'll be comfortable for your daily commute, and when you decide to let the car stretch its legs a bit, the high-performance-inspired seats will keep you firmly planted in place. The optional paddle shifters and sport gauge cluster will make you feel like you're driving a race car, and all the while you'll be achieving an EPA-estimated 42 miles per gallon on the highway.
Thanks to Toyota's Valvematic engine technology, the Corolla's 1.8 liter engine achieves maximum efficiency in any situation, whether it's high-way driving or stop-and-go city traffic. In addition to this is the Corolla's CVTi-S transmission, which gives you more control and substantially-improved fuel economy. We'd have to use a lot of technical jargon to explain it all, so to keep things simple, all you need to do is rest assured that Toyota works very hard to make your car as efficient as possible!
Now, what good would all of this be without creature comforts? Not to be outdone, the Corolla offers plenty. Toyota's Entune Audio ensures that all Corollas are equipped with Bluetooth wireless technology to make phone calls safer and playing music easier. That's right - all of them. The Corolla also offers a backup camera, steering wheel audio controls, automatic climate control, in addition to its ultra-convenient Smart Key system, which allows you to unlock doors and start your car - all with the key fob in your pocket. Talk about convenient.
On top of it all, the Corolla is designed to keep you and all of your passengers safe. With eight standard airbags and Toyota's Star Safety system, you can rest assured knowing that you'll be safe, even if the worst happens.
Need we say more? Visit Lombard Toyota near Villa Park, and we'll be happy to tell you anything more you need to know.
Directions to Toyota Villa Park
Contact us about the 2016 Toyota Corolla