2015 Toyota Sienna for sale in Villa Park, IL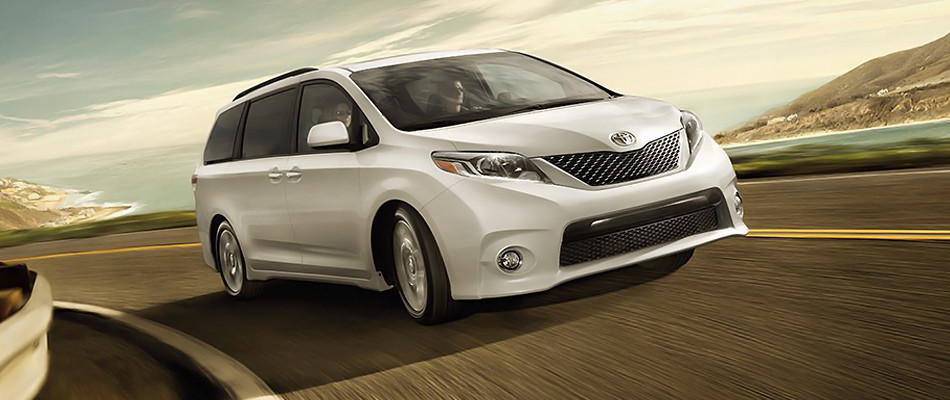 View 2015 Toyota Sienna Inventory
2015 Toyota Sienna for sale in Villa Park, IL
Advertised as the "Original Swagger Wagon" on the Toyota website, the 2015 Toyota Sienna for sale in Villa Park, IL is sure to make you think about minivans like never before. Lombard Toyota will help you find the swagger you've always dreamed of - in the form of a brand new Toyota Sienna.
Obviously, one of the most important features of a minivan is its interior. The Sienna has an available dual moonroof, leather seating, and seating for eight. Toyota could have stopped there, but they didn't. The 2015 Sienna features a redesigned dash, both to immerse you in a VIP experience and to place full control at your fingertips. The wraparound dash is both function and form, and the steering wheel controls allow you to set your stereo and Bluetooth just right, without taking your hands off.
The Sienna also brings impressive cargo capacity to the table. Its spacious interior and adjustable seating means you don't have to play real-life Tetris with your groceries. To top it all off with, the Sienna features a power liftgate so you can easily place your items in the back, even if your hands are full.
Sitting in the second or third row has never been so enjoyable. The Sienna features a Dual-View entertainment system, allowing passengers to watch up to two displays on the same screen, in addition to the available second row lounge seating and climate controls.
The Sienna also makes driving less stressful than ever before. With the standard backup camera, in addition to the available parking assist sonars and blind spot monitor, drivers can approach parallel parking, lane merging, and grocery shopping worry-free! In addition, Toyota's safety system is not to be outdone, as the Sienna comes with eight standard airbags, Star Safety system, pre-collision protocol (an available system that employs radar to detect if a frontal collision is imminent, wherein it will automatically apply the brakes and retract the seatbelts), and a tire-pressure monitoring system.
Now, you might be wondering, "Okay, this is all nice, but what makes it a 'Swagger Wagon'"? Well, its restyled front grille and aggressively-sloped headlights and taillights give the fan a confident, unmistakable look. The Sienna also has available LED daytime running lights for that extra dash of luxury. Its 3.5 liter v6 engine puts 266 horsepower under your right foot, and the available 19-inch alloy wheels will inevitably enter your Swagger Wagon into an elite company.
Best of all, the Sienna comes with the well-known Toyota reliability. Visit Lombard Toyota near Villa Park to check one out today. You will not be disappointed!
Directions to Toyota Villa Park
Contact us about the 2015 Toyota Sienna